Quality attracts quality

September 2017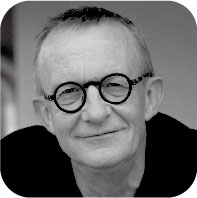 Some people say that good luck is necessary for a new company to succeed. Others say that good luck happens to those who are prepared for it. For Frank Kerdil and Elemental Kitchen, "others" were right - two people passionate for quality and design found each other at the right time and in the right place. They were prepared for their good luck.

Born in Odense, Denmark, Frank was in the graphic design and advertising business for many years, but he was attracted to product design and had won numerous awards for his work. For instance, Copenhagen Airport was a client for 14 years. In 2004, Jonathan Shang was at a products show when Elemental Kitchen was new, and someone happened to meet Frank and introduce him to Jonathan at the Frankfurt Fair. Sounds like luck, but it was "prepared" luck as both Frank and Jonathan wanted to design and offer high-quality and beautiful products to their customers.

Almost 15 years later, Frank's design vision - "When more of the same is not enough" - is still the guiding light for all the products from Elemental Kitchen. As Chief Designer, his influence shines through in clean and functional products that make life more satisfying and creative.
Planning the perfect portable winter lunch
No need to leave the office and fight the cold weather just to have a great lunch! Consider this - Soup and Sandwich, Salad and Dressing, Fruit-Infused Drink. Sounds like a lot. In fact, sounds like you need six containers for all of that.

But, you only need three.

Our new SAFE FLAVOR Divided Storage Dish will hold your sandwich in one side, soup in the other, safely sealed and protected by leak-proof silicone. Use the Standard lid or add style and function with the new ProTech hinged lid.

Carry your salad and dressing together in the CAPSULE CARRY PLUS. One container, two sealed and protected ingredients, a conversation-starting design.

Don't forget the FRUITOGO® portable infusion bottle for a flavorful and healthy lunchtime beverage. Add the fruit and pure water before you leave the house, and your infusion drink will be ready when you are.

Everything you need for a great office lunch can all be stored and carried in hygienic glass, reflecting your desire for health and style.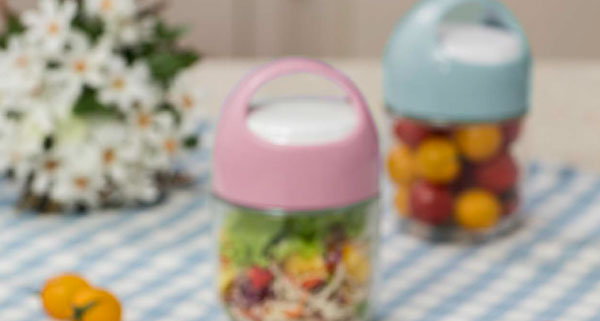 DIVIDED STORAGE PAN
INNOVATIVE AND STURDY LID

Most two-ingredient storage pans don't really keep your food apart. The divider is too low, and the lid won't seal it. But the SAFE FLAVOR is different. The internal divider goes all the way to the top and is sealed with silicone, doing what you wanted from the beginning: keeping two separate flavors safe in the same pan. The lid can also keep the pan off your table, but its real value is the sealing mechanism: Hinged flaps that are durable and uniform.
PORTABLE STORAGE
ON-THE-GO HEALTHY SNACKS

The CAPSULE CARRY PLUS has a bonus - a sealed cup for a snack or lunch combination. Carry one ingredient in the large jar, and a complementary ingredient in the small cup. Fruit and yogurt? Two different fruits? You can choose and combine with the CARRY PLUS. The inner cup seals to protect your bag or purse.
THREE-CHOICE SPICE BOTTLE
TWIST TO CHOOSE

* Take a Health & Flavor fruit infusion drink whereveryou go.
* The durable and hygienic borosilicate glass bottle is just the right size for easy carrying,and the integrated plastic ring is a perfect handle.
* The silicone outer sleeve adds comfort and protection.
* OPEN THE TOP, TAKE A DRINK!
New Catalogue 2017

Our new catalog includes more than 900 products and 100 new designs. Our top-quality and elegant creations are distributed throughout Europe, the Americas, the Middle East, Asia, and other continents. We are the ultimate source for kitchenware and glassware products.

To request for a catalogue, simply fill out the Catalogue Request Form and we will be happy to send you a copy.

Tel: +86-532-80893000
Fax: +86-532-85723925
E-mail: sales@sinoglass.com

SinoGlass Co., Ltd.

We hope you enjoy reading our monthly newsletter. However,if you prefer not to receive anymore newsletterfrom us, simply click here to be removed from our mailing list.